Insights into research on genetic adaptation for future forests
Find out all about the EVOLTREE 2019 Scientific Seminar and the field trip to native Caledonian pinewoods!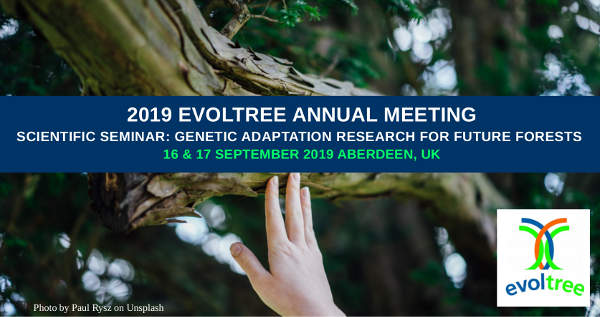 The scientific seminar
New genetic and genomics approaches, including new-generation breeding strategies, have great potential to harness natural genetic variation to promote forest health and productivity, in particular in the face of global disturbances, such as climate change, land fragmentation and emerging pests and diseases.
In light of this, the 2019 EVOLTREE Scientific Seminar, held on the morning of 17th September 2019, explored the ways in which forest tree genetics can be applied to increase local adaptation and resilience in future forests.
The invited and voluntary speakers from Spain, France, Germany and the UK presented and discussed different aspects of these approaches over the course of the morning in a dynamic setting of useful and interesting exchange.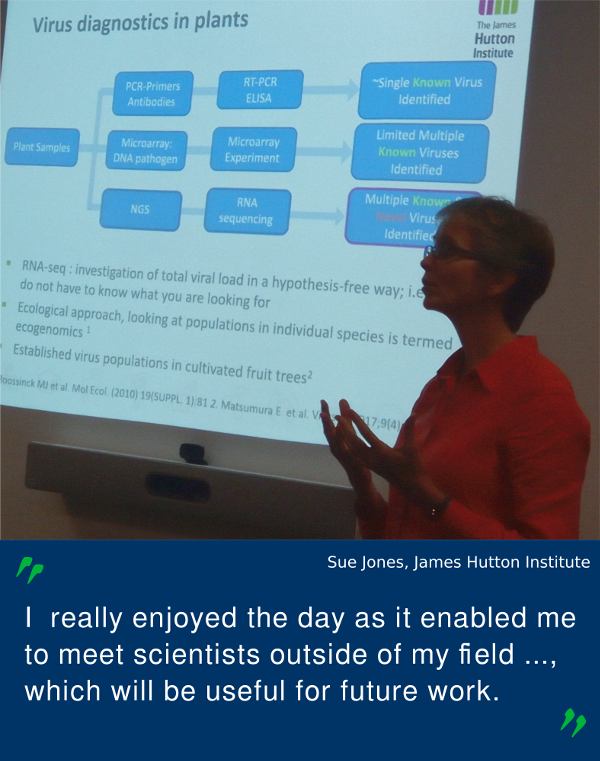 Much of the research which was presented contributes to important ongoing European projects, such as that of Delphine Grivet from INIA (Spain), who gave an update on the use of genomics to characterise evolutionary potential for conservation in the framework of the H2020 project GenTree. Her take home message was that despite recent advance in our understanding of the capacity for adaptation of natural populations of forest trees in the wild, there is still a large gap between scientific research and operative application by practitioners.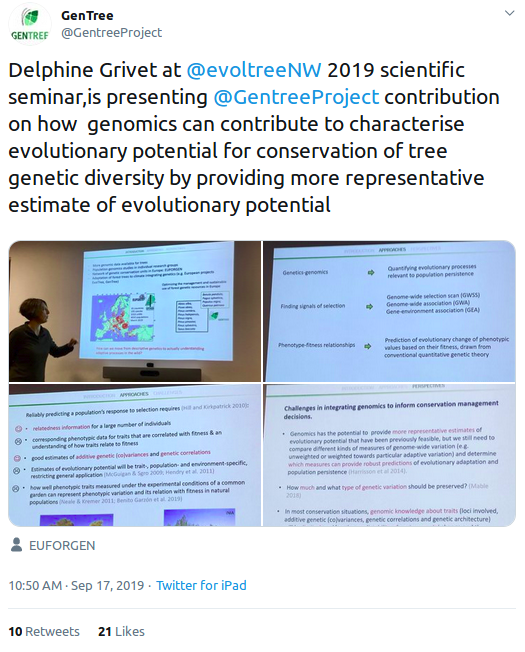 Duncan Ray from Forest Research (UK) gave an overview of work being done on the use of climate projection uncertainty to select Forest Reproductive Material (FRM) for future forest sites in the H2020 project B4EST. The audience learnt that not only are climate projections uncertain, but models do not agree in predictions. However, all scenarios predict a huge impact of future climate on forests and ecosystem services.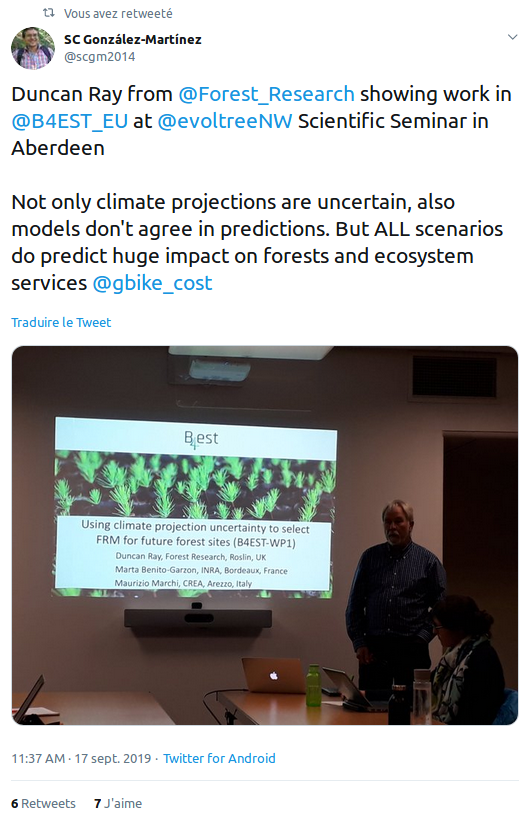 Christophe Orazio from EFI (France) gave the first results from the REINFFORCE project (various funding bodies) of plasticity assessment of 35 forest tree species in common gardens along the Atlantic Coast, from Portugal to Scotland. Interestingly, several species, in particular conifers, had similar reaction norms in growth across latitudinal gradients opening interesting possibilities for forestry.
Meanwhile, on a more local scale, Sue Jones from the James Hutton Institute (Scotland) explored the question of whether viruses could pose a threat to native tree species, with the surprising conclusion that they may actually be important for tree health.
And Markus Müller from the University of Göttingen (Germany) gave a talk about his research on adaptive genetic variation in European beech by means of candidate gene and transcriptome analyses. The audience was interested to see that validation of genotype-phenotype associations is absolutely necessary and that while some of these associations may be valid in some populations, it is not valid in others.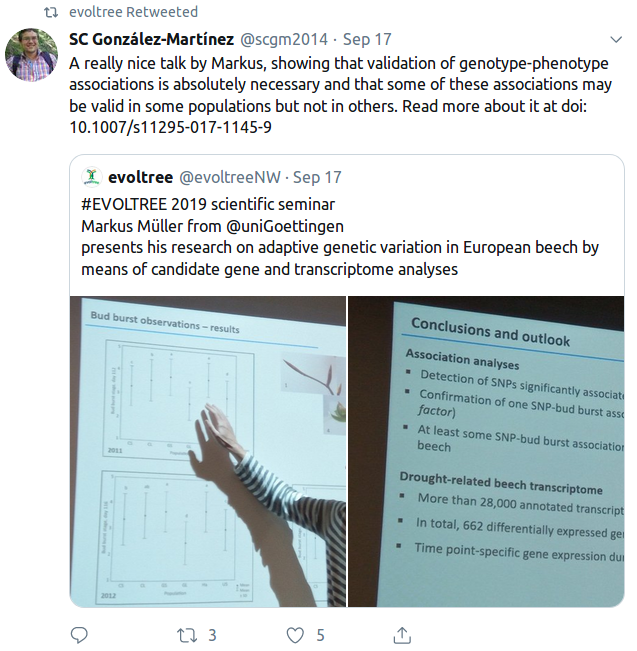 Emma Bush from the Centre for Ecology and Hydrology (CEH, UK) took us further afield to Gabon with her talk about her research on tropical tree phenology with results deriving from long-term data from Lope. This was a very inspiring example about how data collected for other purposes can be harnessed to answer new research questions of vital importance for forests.
EVOLTREE was also very pleased to welcome the OPPORTUNITY grant holder, Lindsay Banin from CEH, who gave a progress report on her project on intra- and interspecific leaf trait variation, decomposition processes and the 'home-field advantage' in European woodlands. Not only was it interesting to hear about how the EVOLTREE funded project is faring, but it was exciting to see work being done on three of the EVOLTREE Intensive Study Sites.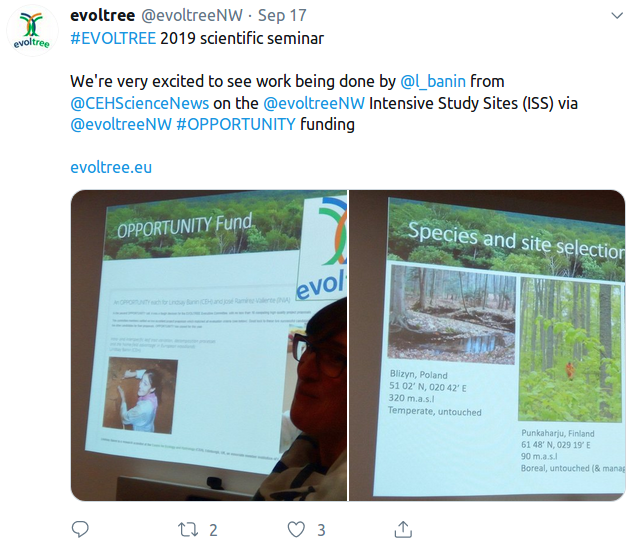 A big thank you to all speakers for sharing their work and many thanks to the James Hutton Institute for hosting the 2019 EVOLTREE Scientific Seminar, which took place in the context of the 2019 EFI Annual Conference
The EVOLTREE Scientific Seminar takes place every year alongside the EVOLTREE Governing Board Meeting as part of the EVOLTREE Annual Meeting.
The field trip
Glen Tanar in the Cairngorms National Park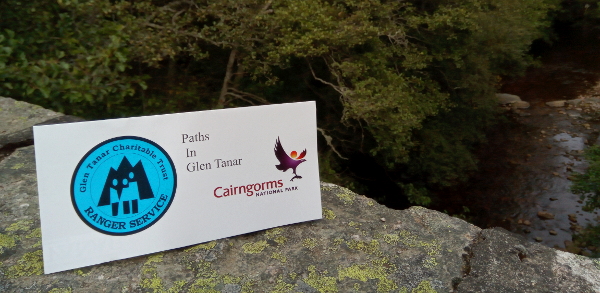 Sitting in a seminar room getting our brains buzzing with stimulating and interesting information is all very well, but by the end of the morning, after a hearty wholesome lunch and one or two fingers of shortbread, everyone was ready to head to the eastern Scottish Highlands for a good stretch of the legs, fresh air in the lungs and green rolling landscapes for the eyes.
We were in excellent company too, with the trip organiser and chauffeur, Stephen Cavers from the Centre for Ecology and Hydrology (CEH) in Edinburgh, and the group's guide, Eric Baird, Head Ranger of Glen Tanar, a Caledonian pinewood private estate run by the Glen Tanar Charitable Trust.
From the two of them, the field trippers were able to glean information about the all aspects of Glen Tanar: from its management and multiple uses to the demographic history and current knowledge on genetic variation of the native Caledonian pinewoods. The native pinewood of Glen Tanar is one of the most easterly Caledonian pinewoods, which has formed part of a study group of populations to evaluate genetic variation in Scots pine.
The afternoon spent in this pleasant little glen (meaning 'valley') of native Scots pine, and also broadleaves such as ash, birch and oak, was much appreciated by the EVOLTREE group.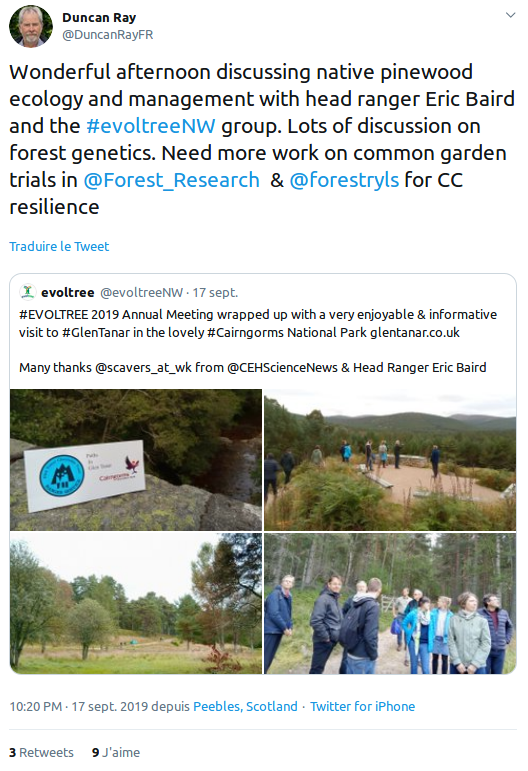 This was the first time in many years that a field trip had been organised as part of the EVOLTREE Annual Meeting and, judging from it's success, it will probably not be the last!
Find out more about Glen Tanar here: http://www.glentanarcharitabletrust.org/
 Article and photos by Hayes4com